Saturday, March 31, 2007
Eurabia Video
posted by al fin at 7:34:00 pm
permanent link#
0 Comments


Thursday, March 01, 2007
Pastorius Speaketh! Moving To A New Site!
Hi, Pastorius here.
To all our IBA readers, lovers, and haters: Thanks.
Because of a Google/Blogger malfunction, I have been delisted at this site. I am no longer able to post, or administer this blog.
But, who give a flying fuck?
Pamela, of Atlas Shrugs, and I have decided to start a new venture called
Maverick News Media
. Eventually, we believe
MNM
will grow into something quite extraordinary.
Most every IBA blogger has already been invited over to MNM. If you haven't, then please, email me at cuanasblog@yahoo.com, and we will send you an invitation to help out over there.
Get you ass over there. It is, basically, the new IBA, only better.
posted by Always On Watch at 11:59:00 pm
permanent link#
8 Comments


The Parallel Government
Of The Entire World
All of us, every single man, woman, and child on the face of the Earth were born with the same unalienable rights; to life, liberty and the pursuit of happiness. And, if the governments of the world can't get that through their thick skulls, then, regime change will be necessary.
Subscribe in a reader
.
The Untold Story of Muslim Opinions & Demographics
Infidel Babe Of The Week
Moran Atias - TYRANT

IBA Quote of the Week.
"For the word of God is quick, and powerful, and sharper than any two-edged sword, piercing even to the dividing asunder of soul and spirit, and of the joints and marrow, and is a discerner of the thoughts and intents of the heart." --- Hebrews 4:12
Sharia is Sedition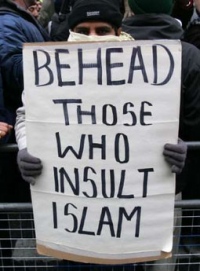 "An Islamic regime must be serious in every field," explained Ayatollah Khomeini. "There are no jokes in Islam. There is no humour in Islam. There is no fun in Islam."
****************

"I want to be very, very clear, however: I understand and agree with the analysis of the problem. There is an imminent threat. It manifested itself on 9/11. It's real and grave. It is as serious a threat as Stalinism and National Socialism were. Let's not pretend it isn't."
~~~~~Bono~~~~~

****************
IMPORTANT VIDEOS

An Infidel Message
To Moderate Muslims

OBSESSION

UNDERCOVER MOSQUE

GERT WILDER'S
FITNA

****************
Original Artwork By Bosch Fawstin
Defenders of Freedom
Contributors
The Other News
Books By Our Writers
Other Books