No Depression
Today is a milestone.
Today is 2 years since my job was eliminated.
Prospects are not good. I can't even get an interview to stock shelves at the local Lowe's or Target.
I'll be 50 in November. That doesn't help. Especially when 4 out of 5 college graduates can't find a job in their field of study.
I've been out of work for 2 years.
"Unemployed need not apply."
Yet for 3-1/2 years, through my wife's unemployment and then my own, I've been able to keep the bills paid. It has cost me nearly every sent I have in savings and early retirement withdrawals. That's about to end.
The August numbers are out today. On my two year anniversary.
Unemployment is holding steady at 9.1%.
They say that like it's a good thing.
Truth is, unemployment is holding steady because the 99ers are starting to expire at a faster and faster pace now. People who have expired their benefits and are no longer counted as unemployed although they have not found a job.
Now they're just counted as bums I suppose.
To hear the idiots and morons on the TeeVee we have a chance to turn this all around in 2012.
For myself and millions like me, that is too late. By then we will be finished.
The President has a BIG JOBS SPEECH next week.
To the media the big deal with it is how will it affect the Packers game?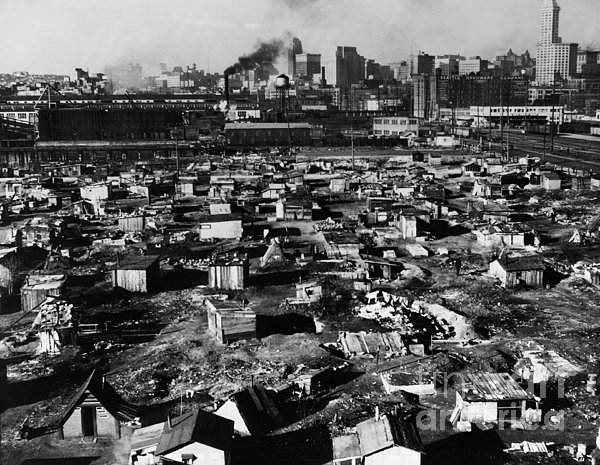 Meanwhile, The August numbers show NO JOBS were created in August.
None.
That hasn't happened since 1945.

And President Barack Obama, back home from his 10 day Martha's Vineyard Vacation, refreshed and ready to work,
is heading to Camp David for the next couple days
.
While Congress, who fled town right after passing that debt debacle in early August, has yet to be heard from.
None of them seem to care about the un(der)employed, except as how it will affect their chances in 2012.
Kids are living in their cars and under blue tarps in the woods. They tape screening to the windows to keep the mosquitos out but let air in during the warm summer nights. They're dropped off at school in the same vehicle they sleep in and do their homework in afterwards. Spaghettios are a luxury meal to them. A can split among 3 or 4.
This is not the America my father left me. Nor yours.
But hang in their, kids. 2012 is coming.
It's just 72 weeks until a new administration.
You can hang on that long, can't you?
Employers add no net jobs in Aug.; rate unchanged

Employers added no net jobs in August, while unemployment rate was unchanged at 9.1 pct.
WASHINGTON (AP) -- Employers stopped adding jobs in August, an alarming setback for an economy that has struggled to grow and might be at risk of another recession.
The government also reported that the unemployment rate remained at 9.1 percent. It was the weakest jobs report since September 2010.
Stocks tumbled on the news. The Dow Jones industrial average sank more than 190 points in early-morning trading.
Total payrolls were unchanged in August, the first time since 1945 that the government has reported a net job change of zero. Economists warned that the economy can't keep growing indefinitely if hiring remains stalled.
"Underlying job growth needs to improve immediately in order to avoid a recession," said HSBC economist Ryan Wang.
Fears that the United States will slip back into recession have been rising since the government reported over the summer that the economy barely grew in the first half of the year. Consumer and business confidence has been sapped by the political standoff over the federal debt limit, a downgrade in the U.S. government's credit rating and a debt crisis in Europe.
Job growth had already been sputtering before it stalled completely last month. The economy produced an average 166,000 a month in the first quarter, 105,000 a month in the second quarter and just 28,000 a month so far in the third quarter, said John Silvia, chief economist at Wells Fargo.
The dispiriting job numbers for August will put more pressure on the Federal Reserve, President Barack Obama and Congress to find ways to stimulate the economy. So far, Fed Chairman Ben Bernanke has been reluctant to try a third round of bond purchases designed to jolt the economy by further lowering long-term interest rates.
Obama next week will deliver a rare address to a joint session of Congress to introduce a plan for creating jobs and boosting economic growth. But House Republicans have resisted any federal stimulus spending.
The weakness in employment was underscored by revisions to the jobs data for June and July. Collectively, those figures were lowered to show 58,000 fewer jobs added. The downward revisions were all in government jobs.
The average work week also declined, and hourly earnings fell by 3 cents to $23.09.
"There is no silver lining in this one," said Steve Blitz, senior economist at ITG Investment Research. "It is difficult to walk away from these numbers without the conclusion that the economy is simply grinding to a halt."
With job creation stalled and wages declining, consumers won't see much gain in incomes. That will limit their ability to spend, which undercuts growth. Consumer spending accounts for about 70 percent of the economy.
"The importance of job growth cannot be overstated," said Joshua Shapiro, chief U.S. economist at MFR Inc.
The economy needs to add roughly 250,000 jobs a month to rapidly bring down the unemployment rate, which has been above 9 percent in all but two months since May 2009.
In August, the private sector added 17,000 jobs, the fewest since February 2010. That compares with 156,000 in July and 75,000 in June.
"The stagnation in US payroll employment is an ominous sign," said Paul Ashworth, an economist at Capital Economics. "The broad message is that even if the US economy doesn't start to contract again, any expansion is going to be very, very modest and fall well short of what would be needed to drive the still elevated unemployment rate lower."
Hiring fell across many different sectors. Manufacturers cut 3,000 jobs, its first decline since October 2010. Construction companies, retailers, and transportation firms also cut workers.
The health care industry added 30,000 jobs last month.
The economy expanded at an annual pace of only 0.7 percent in the first six months of the year. That was the slowest six months of growth since the recession officially ended in June 2009.
In August, consumer confidence fell to its lowest level since April 2009, according to the Conference Board.
Most economists forecast that growth may improve to about a 2 percent annual rate in the July-September quarter. But that's not fast enough to generate many jobs.
The Obama administration has estimated that unemployment will average about 9 percent next year, when Obama will run for re-election. The rate was 7.8 percent when Obama took office.
The White House Office of Management and Budget projects overall growth of only 1.7 percent this year.
"The economy continues to stagger," said Sung Won Sohn, economist at California State University Channel Islands. "It wouldn't take much (of a) shock to tip it onto a recession."
Labels: MR
posted by midnight rider at 3:56:00 pm
permanent link#