Tuesday, December 22, 2015
Franklin Graham Officially Quits the GOP
posted by Pastorius at 1:58:00 am
permanent link#


The Parallel Government
Of The Entire World
All of us, every single man, woman, and child on the face of the Earth were born with the same unalienable rights; to life, liberty and the pursuit of happiness. And, if the governments of the world can't get that through their thick skulls, then, regime change will be necessary.
Subscribe in a reader
.
The Untold Story of Muslim Opinions & Demographics
Infidel Babe Of The Week
Moran Atias - TYRANT

IBA Quote of the Week.
The whole enterprise of Conservatism, Inc., reeks of failure. Its sole recent and ongoing success is its own self-preservation. (…) Third and most important, the ceaseless importation of Third World foreigners with no tradition of, taste for, or experience in liberty means that the electorate grows more left, more Democratic, less Republican, less republican, and less traditionally American with every cycle. (…) Trump is the most liberal Republican nominee since Thomas Dewey. He departs from conservative orthodoxy in so many ways that National Review still hasn't stopped counting. But let's stick to just the core issues animating his campaign. On trade, globalization, and war, Trump is to the left (conventionally understood) not only of his own party, but of his Democratic opponent. And yet the Left and the junta are at one with the house-broken conservatives in their determination—desperation—not merely to defeat Trump but to destroy him. What gives? Oh, right—there's that other issue. The sacredness of mass immigration is the mystic chord that unites America's ruling and intellectual classes. -- Storm The Cockpit, Or You Die!: The Flight 93 Election, from Claremont Review
Sharia is Sedition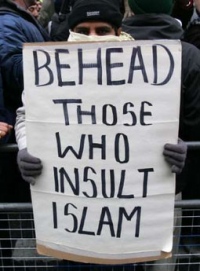 The Infidel Bloggers Alliance Radio Show
Gathering Storm Report Radio Show
"An Islamic regime must be serious in every field," explained Ayatollah Khomeini. "There are no jokes in Islam. There is no humour in Islam. There is no fun in Islam."
****************

"I want to be very, very clear, however: I understand and agree with the analysis of the problem. There is an imminent threat. It manifested itself on 9/11. It's real and grave. It is as serious a threat as Stalinism and National Socialism were. Let's not pretend it isn't."
~~~~~Bono~~~~~

****************
IMPORTANT VIDEOS

An Infidel Message
To Moderate Muslims

OBSESSION

UNDERCOVER MOSQUE

GERT WILDER'S
FITNA

****************
Original Artwork By Bosch Fawstin
Previous
NOTICE!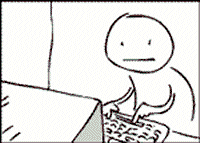 Older Posts
Newer Posts