Went to sleep last night having posted a small piece about a mob tearing down the flag at our Embassy in Cairo. Got up at 4:00 went to work and came home. No exposure to the news between last night and now.
WHAT THE FUCK IS THIS?

WHY DO WE HAVE A DEAD AMBASSADOR AND STAFF AND LITTLE MORE THAN AN APOLOGY FROM THE PRESIDENT FOR A MOVIE HE HAD NOTHING TO DO WITH?

WHY HAVEN'T WE ALREADY LANDED MARINES OR AIRBORNE IN CAIRO AND BENGHAZI AND TRIPOLI? THAT'S WHAT WE HAVE THEM FOR! IT'S THEIR FUCKIN JOB LET THEM DO WHAT THEY KNOW HOW TO DO BETTER THAN ANYONE ELSE!

WE WERE NUMBER ONE IN THE WORLD NOT ONLY BECAUSE PEOPLE RESPECTED US BUT BECAUSE THE RIGHT PEOPLE FEARED US.

THIRTY YEARS AGO THIS COULD HAVE BEEN CASUS BELLI.

IMAGINE WHAT WOULD HAVE HAPPENED TO THESE PROTESTORS WERE GADDAFI OR MUBAREK STILL IN POWER BECAUSE THEY KNEW WHAT WOULD HAPPEN TO THEIR COUNTRIES IF IT WAS HANDLED QUICKLY.

THE PRESIDENT UNDERSTAND AND VALUES THE DIPLOMATIC CORPS WORK BECAUSE HE SPENT SO MUCH TIME GROWING UP ABROAD AS A KID? REALLY?! HE UNDERSTANDS WHAT IT'S LIKE TO FACE AN ANGRY MOB, ABANDONED AND REALIZING YOU WILL BE UNAVENGED BY THE GOVERNMENT YOU WORK FOR?

AND WHAT IS WORSE, A PRESIDENT WHO MAY HAVE HAD A BRIEFING IN EARLY AUGUST THAT AL QAIDA MAY TRY TO STRIKE THE HOMELAND BUT NOT MUCH MORE SPECIFICITY OR A PRESIDENT WHO DOESN'T CARE ENOUGH TO EVEN ATTEND THE INTEL BRIEFINGS TO KNOW THERE IS A THREAT OUT THERE? TOO BUSY WITH GEORGE C AND JAY-Z AND BEYONCE AND SCHEDULING LETTERMAN?

IS THIS WHAT YOU EXPECTED WHEN YOU LEFT HOSNI TO SWING? ENFORCED A NO FLY ZONE OVER MUAMMAR?

WE CAME, WE SAW, HE DIED.

SURE DID, DIDN'T HE.

I HOPE THEY ARE ALL PROUD OF THEMSELVES.

WE HERE AT IBA, AND OTHERS, CALLED THIS MONTHS AGO.

BARACK OBAMA IS A NATIONAL DISGRACE, AN IGNORANT INCOMPETENT OCCUPANT OF 1600 PENNSYLVANIA WHO DESERVES TO BE RUN OUT OF OFFICE ON A RAIL

AND AS FOR THE GOATFUCKERS IN EGYPT AND LIBYA AND ANYWHERE ELSE THEY THINK THEY CAN FUCK WITH US. . .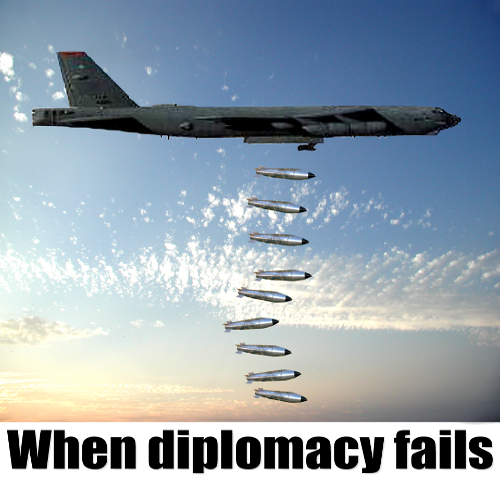 Labels: MR
posted by midnight rider at 8:06:00 pm
permanent link#