Now the Barbarians Want Britain to Adopt Islamic Values in the Name of Integration!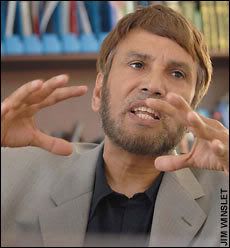 Photo of Dr Muhammad Abdul Bari courtesy of The Telegraph
This is the limit! The chutzpah of it all! Now the Muslim immigrants want the indigenous British population to adopt some Islamic values to integrate with the Muslim community! Integration, he says, works both ways. Yes, Dr Bari, just as it does in Saudi Arabia, and in other barbaric Islamic cultures. This really
is
the giddy limit! This is the example
par excellence
of Muslim immigrants trying it on.
How much longer must the long-suffering British tolerate this damn nonsense?
Dr Muhammad Abdul Bari now suggests that alcohol be banned in all public places, just like smoking! (What did I tell you would happen after that ridiculous smoking ban?) He also wants the British to adopt arranged marriages, and homosexuality must be outlawed again, of course. In a few words, they want to drive us all back to the
Dark Ages.
This man thinks that Britain could benefit from a little more morality (Islamic morality, of course). Hm! Does this ridiculous man not think that the Islamic world could benefit from a little more Christian humanity?
When immigrants start trying to dictate the terms and conditions, it is high time that the indigenous population sat up and started thinking seriously about repatriation for this group of people who are so obviously impossible to integrate. For if something is not done about this problem soon, then I see only strife ahead. The streets of Britain really will, then, become "rivers of blood"! -
©Mark
.
THE TELEGRAPH: The head of the Muslim Council of Britain does not mince his words on integration, report Rachel Sylvester and Alice Thomson

There is fear and loathing in Britain. This week, the head of MI5 claimed there were 2,000 people involved in terrorist activity and children as young as 15 were being "groomed" to be suicide bombers.

Gordon Brown announced plans to require immigrants to learn English and Downing Street said the Prime Minister wanted to double the number of days that terrorist suspects can be detained without trial. Then, just as the Metropolitan Police was being censured for shooting the Stockwell One, the Lyrical Terrorist became the first woman to be convicted of terrorist crimes.

Dr Muhammad Abdul Bari, the leader of the Muslim Council of Britain (MCB), thinks the Government is stoking the tension. 

"There is a disproportionate amount of discussion surrounding us," he says. "The air is thick with suspicion and unease. It is not good for the Muslim community, it is not good for society."

The 53-year-old special needs teacher has a gentle manner and a quiet voice - he describes himself as a "community spokesman" rather than a "religious leader" - but he does not mince his words.

Britain must, he warns, beware of becoming like Nazi Germany.

"Every society has to be really careful so the situation doesn't lead us to a time when people's minds can be poisoned as they were in the 1930s. If your community is perceived in a very negative manner, and poll after poll says that we are alienated, then Muslims begin to feel very vulnerable. We are seen as creating problems, not as bringing anything and that is not good for any society."

There is, in his view, no such thing as Islamic terrorism.

"Terrorists are terrorists, they may use religion but we shouldn't say Muslim terrorists, it stigmatises the whole community. We never called the IRA Catholic terrorists." Dr Bari thinks Jonathan Evans, the head of MI5, made the extremists' job easier by giving a bleak picture of the threat on the eve of the Queen's Speech. Dr Bari: Government stoking Muslim tension (more) By Rachel Sylvester and Alice Thomson
Mark Alexander
Labels: Dr Muhammad Abdul Bari, Islamic values, Islamization of Britain, Muslim Council of Britain, UK
posted by Mark at 10:31:00 a.m.
permanent link#