Saturday, May 27, 2006
Hey Eteraz, and other "moderate" Muslims...this graphic's for you
posted by The Anti-Jihadist at 8:31:00 pm
permanent link#


The Parallel Government
Of The Entire World
All of us, every single man, woman, and child on the face of the Earth were born with the same unalienable rights; to life, liberty and the pursuit of happiness. And, if the governments of the world can't get that through their thick skulls, then, regime change will be necessary.
Subscribe in a reader
.
Infidel Babe Of The Week
Can it be anyone else?


IBA Quote of the Week.
""The Koran teaches fear, hatred, contempt for others, murder as a legitimate means for the dissemination and preservation of this satanic doctrine, it talks ill of women, classifies people into classes, calls for blood and ever more blood. Yet, that a camel trader sparks uproar in his tribe, that he wants to make his fellow citizens believe that he talked to the archangel Gabriel; that he boasted about being taken up into heaven and receiving a part of that indigestible book there, which can shake common sense on every page, that to gain respect for this work, he covers his country with fire and iron, that he strangles fathers, drags away daughters, that he leaves the beaten a free choice between death and his faith: now this is certainly something that no-one can excuse, unless he came as a Turk into the world, unless superstition has stifled any natural light of reason in him." --- Voltaire (1694-1788) Translation by SIMONXML from "ISLAM – Dem Untergang geweiht" by Thomas K. Luther, p.24.
Sharia is Sedition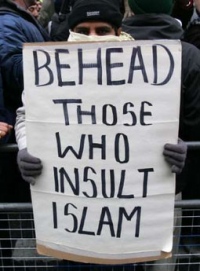 The Infidel Bloggers Alliance Radio Show
Gathering Storm Report Radio Show
"An Islamic regime must be serious in every field," explained Ayatollah Khomeini. "There are no jokes in Islam. There is no humour in Islam. There is no fun in Islam."
****************

"I want to be very, very clear, however: I understand and agree with the analysis of the problem. There is an imminent threat. It manifested itself on 9/11. It's real and grave. It is as serious a threat as Stalinism and National Socialism were. Let's not pretend it isn't."
~~~~~Bono~~~~~

****************
IMPORTANT VIDEOS

An Infidel Message
To Moderate Muslims

OBSESSION

UNDERCOVER MOSQUE

GERT WILDER'S
FITNA

****************
Original Artwork By Bosch Fawstin
Previous
NOTICE!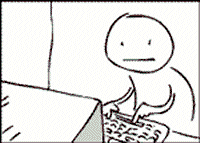 Older Posts
Newer Posts