Friday, February 01, 2013
Anonymous -- Response To Obama's 2013 Gun Control Policy
posted by Pastorius at 4:40:00 am
permanent link#


The Parallel Government
Of The Entire World
All of us, every single man, woman, and child on the face of the Earth were born with the same unalienable rights; to life, liberty and the pursuit of happiness. And, if the governments of the world can't get that through their thick skulls, then, regime change will be necessary.
Subscribe in a reader
.
Infidel Babe Of The Week
Can it be anyone else?


IBA Quote of the Week.
"I'm quite confident that we're going to rebel against this abusive government' I think that we're in a period today comparable to the American founding period in two senses: one, we're worried about decay — we're worried about whether we're squandering our legacy and whether we're calling into question whether people can really govern themselves — but also because, and this is the heartening part of this, today as never before in my lifetime, Americans have rekindled their interest in the founding era and the founding principles. Look at the wonderful sales of biographies of the founders: Washington, Hamilton, Jefferson, Madison. Look at the Tea Party, which I think frankly is one of the great events of my lifetime. The American people go through life with a little crick of their necks from looking back at the past, and that's healthy. We always relate to the Declaration and to the Constitution and here, along comes the Tea Party movement named after something that happened in 1773: the Boston Tea Party. And it's called us back to reverence for, and understanding of, and insistence upon, the founding principles of limited government. So, in a good sense and a bad sense, I think we're in the founding period." --- George Will
Sharia is Sedition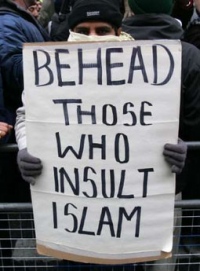 The Infidel Bloggers Alliance Radio Show
Gathering Storm Report Radio Show
"An Islamic regime must be serious in every field," explained Ayatollah Khomeini. "There are no jokes in Islam. There is no humour in Islam. There is no fun in Islam."
****************

"I want to be very, very clear, however: I understand and agree with the analysis of the problem. There is an imminent threat. It manifested itself on 9/11. It's real and grave. It is as serious a threat as Stalinism and National Socialism were. Let's not pretend it isn't."
~~~~~Bono~~~~~

****************
IMPORTANT VIDEOS

An Infidel Message
To Moderate Muslims

OBSESSION

UNDERCOVER MOSQUE

GERT WILDER'S
FITNA

****************
Original Artwork By Bosch Fawstin
Previous
NOTICE!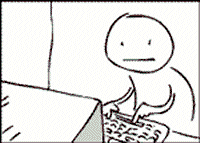 Older Posts
Newer Posts