OT Sports:Joe Flacco is a 'challenged' MAROON
SI:
"I think it's retarded. I probably shouldn't say that. I think it's stupid," said Flacco. "If you want a Super Bowl, put a retractable dome on your stadium. Then you can get one… Other than that I don't really like the idea. I don't think people would react very well to it, or be glad to play anybody in that kind of weather."
One of the greatest playoff games EVER PLAYED occurred on Jan 19, 2002.
This is the famous (or infamous if you are from Oakland) Tuck Rule game won by Adam Vinateri's tying field goal, then winning in overtime in a snow storm.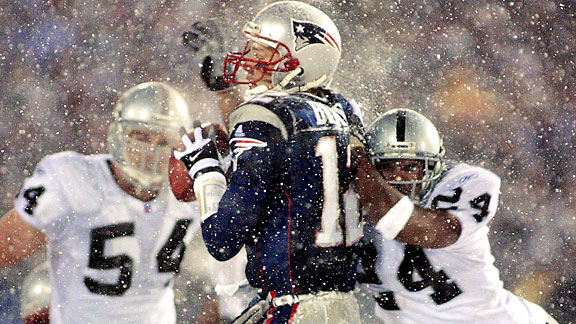 In 1967 the Green Bay Packers won the Championship under horrific conditions. the ICE BOWL, Dec 31 1967, with the temperature on the field in Green Bay -15 F, and the wind chill -70.
These games may be the two greatest playoff games ever played, and certainly among the greatest ever played. Not only were the games proper incredible but the adverse conditions lifted the competition to another plane.
Both winners were world champions that year.
This very set of properties, not only playing for a championship, but doing so on an EVEN PLAYING FIELD with the competition under such conditions TESTS the caliber of the players, and coaches in ways which make every play far more dramatic.
Apparently Mr. Flacco may be the best quarterback for a Baltimore, where snow is measured in a few inches most of the time, if at all, and perhaps he actually longs for a Miami, or San Diego.
I hope the Super Bowls are played soon in Foxboro, and Green Bay.
posted by Epaminondas at 12:00:00 pm
permanent link#