Weekly Standard
:
After Meeting, NRA Says White House Has 'Agenda to Attack the Second Amendment'
After meeting with Vice President Joe Biden and Attorney General Eric Holder at the White House today, the National Rifle Association released a statement saying the White House has an "agenda to attack the Second Amendment."
"The National Rifle Association of America is made up of over 4 million moms and dads, daughters and sons, who are involved in the national conversation about how to prevent a tragedy like Newtown from ever happening again. We attended today's White House meeting to discuss how to keep our children safe and were prepared to have a meaningful conversation about school safety, mental health issues, the marketing of violence to our kids and the collapse of federal prosecutions of violent criminals," reads the NRA statement.
"We were disappointed with how little this meeting had to do with keeping our children safe and how much it had to do with an agenda to attack the Second Amendment. While claiming that no policy proposals would be "prejudged," this Task Force spent most of its time on proposed restrictions on lawful firearms owners - honest, taxpaying, hardworking Americans. It is unfortunate that this Administration continues to insist on pushing failed solutions to our nation's most pressing problems. We will not allow law-abiding gun owners to be blamed for the acts of criminals and madmen. Instead, we will now take our commitment and meaningful contributions to members of congress of both parties who are interested in having an honest conversation about what works - and what does not."
==========================================================================
Meanwhile, after a long drought in the last 2 weeks I attended 2 gun shows with the fourteen year old eagerly, willfully and happily in tow (she likes the food at the shows, the guns, the knives and some of the other stuff, like making faces at the protestors).
At the first show I sold a Glock 23 to a dealer and bought an old (1971) Smith and Wesson Model 15-3 snubnose. Looks alot like this
And is now resting in the bedside drawer. A new house gun. The Glock had become pretty much an expensive paperweight since I picked up a Glock 36 (slimline single stack .45 acp) a while back.

But this week I did even better. At the last minute I decided to take another paperweight -- a 6 inch S&W K-22 from the early 50s -- along as trade fodder. Figuring I'd get maybe $300 in trade for it.

So the kid and I finish our hot dogs and are wandering the aisles when a dealer calls out "Hey, whatcha selling?"

Showed it to him.

"What do you want for it?"

On a long shot I told him $450.

"Would you take $400?"

"Let me think about it a bit."

Back to wandering the aisles. Within five minutes I came upon one of my Grail guns. A beautiful Colt Detective Special from 1960. Someone had done a poor job on replacing the stocks (they didn't match and were badly beat up besides) and so it was going for $350.

I didn't haggle. Back to the first guy, sold him the Smith then grabbed up the Colt. Out the door for $376. And as an added bonus found a decent holster for last week's gun (can't just have it loose in the drawer) for $24. $400 total. How's that for planning?

Took the Colt to the range Monday and it performed flawlessly although the grips really left a bit to be desired from a comfort standpoint. But the night before I found and ordered Pachmayr's for it. They arrived yesterday and it is now riding proud and ready on my hip.

Looks an awful lot like this: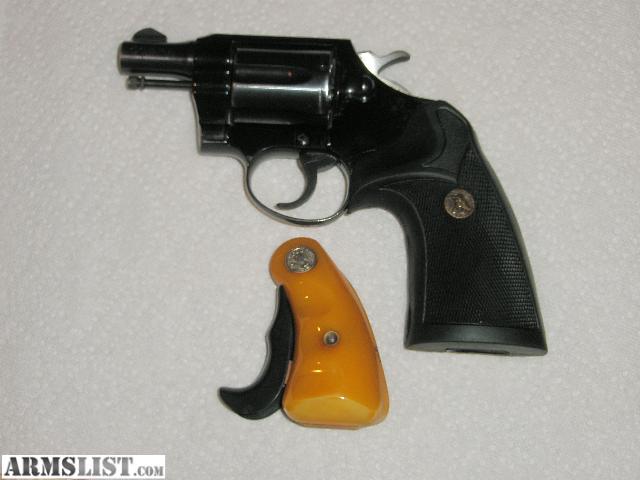 Sweet.

I gotta take that kid along to gun shows more often. She's my good luck charm.

Cost admission and food for the two weekends for both of us?

About $35.

Cost out of pocket for both guns?

Not a cent.

Cost for dad and number 3 to have a great time at somethin he loves and she is fast learning to?

Well, you know.
Labels: MR
posted by midnight rider at 2:34:00 am
permanent link#