UPDATES WILL BE FROM THE TOP DOWN, OLDEST STUFF AT THE BOTTOM (mr)
20:50 EDT per Fox now 77 dead. French Foreign Ministry still denying hostage situation but a number of reports from the ground say there is indeed a hostage situation ongoing...
20:13 EDT 75 dead
19:30 EDT Truck was loaded with "arms and grenades"
19:20 EDT Trump press conference on VP tomorrow has been cancelled/postponed
19:00 EDT 73 dead
18:50 EDT French Ministry says no hostages at this time
18:30 EDT: Sky News now reporting deah toll has topped 60, over 100 injured.
18:23 EDT -- Fox says Sky News reporting police believe an accomplice is on the run. Other news outlets (Daily Mail etc) saying an accomplice may have hostages at the Meridian Hotel and Buffalo Grill. Original truck driver emerged from cab shooting.
Fox TV is reporting a gunfight between responding police and the suspects (plural) ISIS has apparently claimed responsibility.
Fox:
Dozens of deaths reported after truck drives into Bastille Day crowd in France
DEVELOPING:
Dozens were killed Thursday after a large truck drove into a crowd of people who had gathered for a Bastille Day fireworks show in the southern French city of Nice, a regional official said.
Nice Mayor Christian Estrosi said on Twitter that there appeared to be "dozens" of fatalities, while the French TV channel BFM reported that at least 30 people had died. No casualty figures were immediately given by authorities.
The apparent attack happened at around 10:30 p.m. local time on the Promenade des Anglais, the city's main boulevard along the Mediterranean Sea.
The
Nice-Matin
newspaper quoted one of its reporters as saying the truck driver "mounted onto the Prom and he drove on everyone." The reporter added, "people are running, it's panic."
A photo taken by the reporter showed around a dozen people lying in the street, with some being tended to by emergency personnel.
Reports of shots being fired could not immediately be confirmed, and may have been confused with the sound of fireworks.
The paper posted an image of the truck on Twitter, captioning it, "The truck that drove into the crowd."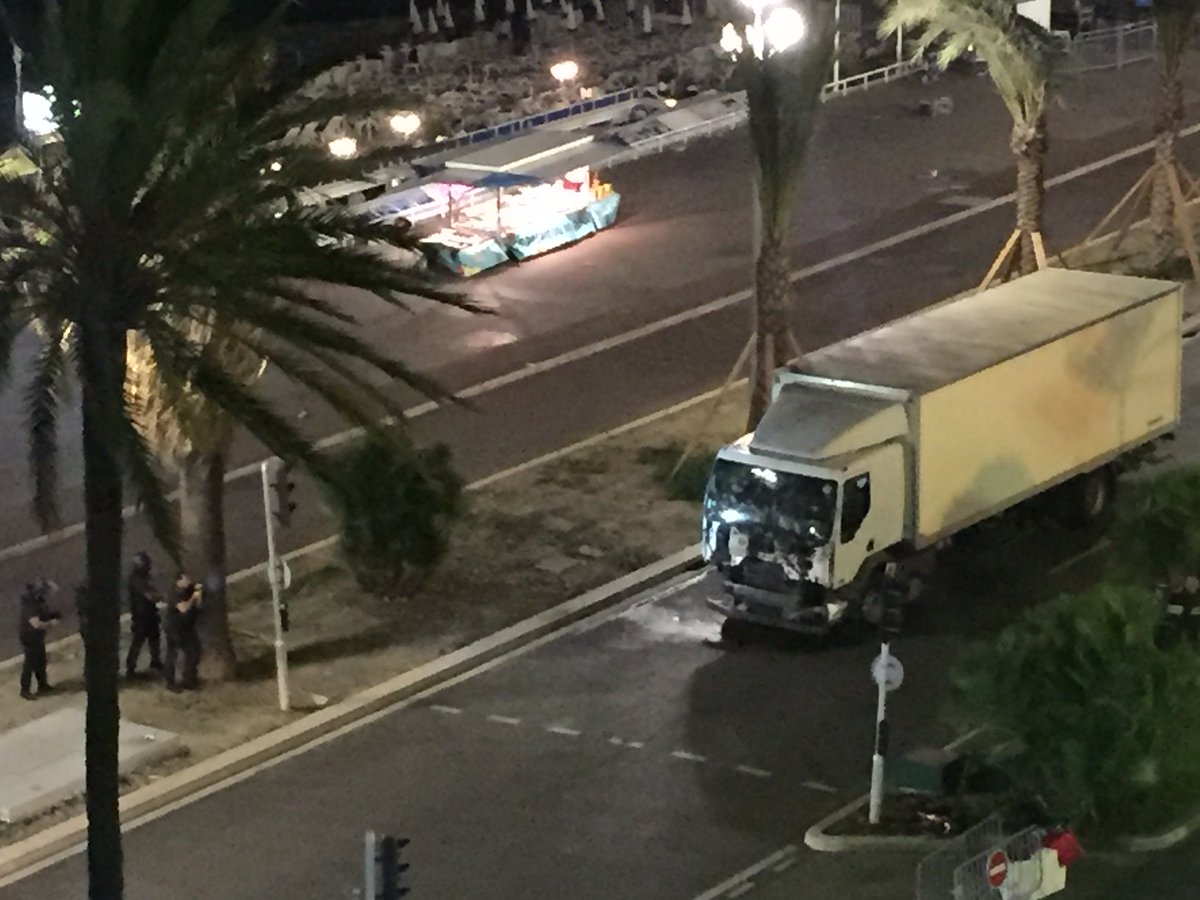 Not a lot of information about this out there but apparently up to 30 people have died (confirmed now by a French TV station).
http://www.telegraph.co.uk/news/2016/07/14/truck-crashes-into-crowd-at-bastille-day-celebrations-in-nice2/
Feel free to update this post or start a new one.